Existing Roof
Waterproofing Integrity Testing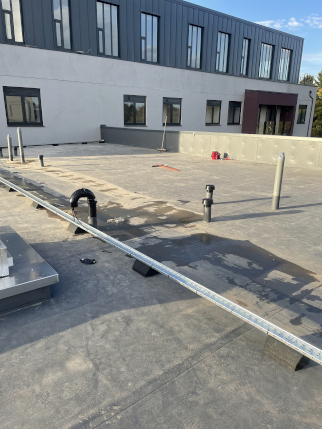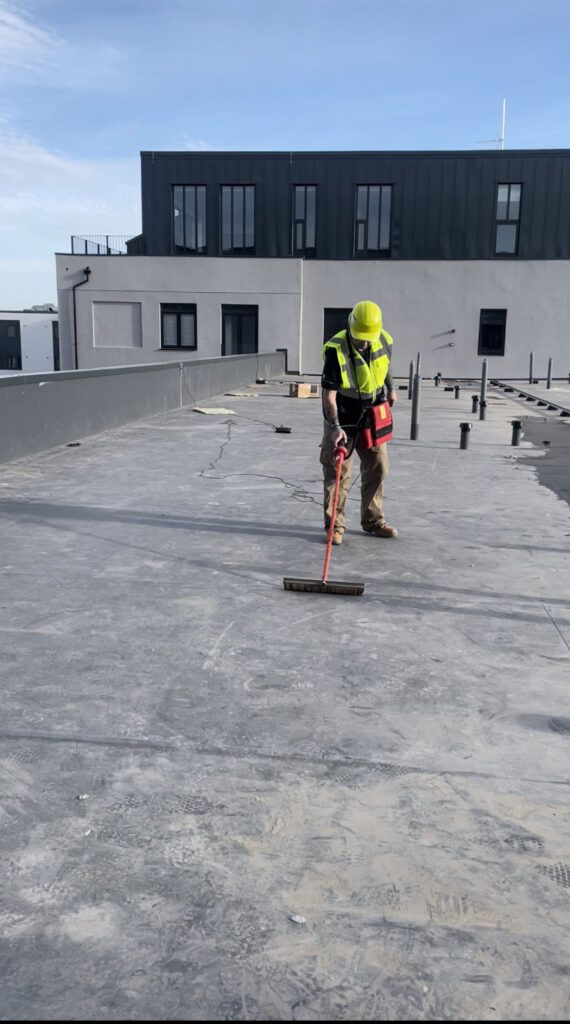 This was a commercial flat roof Electronic Leak Detection (ELD) waterproofing integrity test which was carried out on a new single-ply installation on a property in Birmingham. The property was a large Residential flats complex. It was required by the customer due to a water ingress issue on a specified area of the roof. The weather conditions were clear with minimal wind and the temperature was approx. 10 deg C.
The ELD Testing Equipment Set Up Process
Dry roof pro-ELD testing equipment is in operation during test.
A suitable Earthing point was determined in the buildings fixed Earthing strap, and the kit was connected to the detector units earth terminal using the kits earth cables (5m/50m).
Insulated extension rods were then attached to a 450mm straight phosphor-bronze brush electrode. And then connected to the probe handle.
The interconnecting cable is then connected to the detector unit and onto the probe handle
ESD wristband is then connected to the test probe and worn by operator.
The kit is then switched on at the detector unit and set to the required testing thickness as per test voltage calculator. On this test the waterproofing system was 1.5mm in thickness (1.5=1500). The kit detection was set at 9.69KV/1502.
An earth test is then carried out on the buildings structure with the electrode to ensure a good earth return connection.
The Waterproof Membrane Integrity Test 
One the kit is fully set up the the membrane testing can commence, by running the drum brush over the required testing area. If any faults are detected by the ELD test equipment the an alarm will sound on the detection unit
Areas with faults will then be identified by marking in red onto the waterproofing membrane where the alarm sounded.
All finding of the tested areas and identified faults are then identified within a gridline, which is included in the in-depth report which is made available to the customer upon completion of the contract.
All of the detail areas, up stands and protrusion points were tested using a 75mm drum brush attachment which fits directly onto the probe handle.
The roof was approximately 120m2 and it took 3 hours to complete the test 
For More Information On Electronic Leak Detection