What Is Radon and What Are The Risks Of Radon Gas Exposure?
Radon is all over it is a colourless, odourless naturally occurring radioactive gas that's formed by the radioactive decay of small percentages of uranium that take place naturally in all rocks and soils. Everyone is exposed to radon daily, the essential question is, just how much radon are you being exposed to?
Public Health England have produced a map that highlights the levels of radon across the UK. It shows that houses in the South West and Wales have the potential for high levels of radon gas due to the massive amounts of granite that's in the area. Other areas of the UK are also exposed to higher levels of radon gas because of the kind of soil & rocks on which the homes have been built. However, it's essential to bear in mind that no matter where in the UK you live, radon gas exists.
Due to modern buildings being more draught proof & radon being colourless & odourless it can accumulate in residential or commercial properties without the occupiers realising. For many individuals, radon is the single largest source of radiation direct exposure whether they are at home or at work.
The primary danger is if you're exposed to high levels of radon for long periods of time you can be at risk of developing lung cancer. A Cancer Research study reported that of the cases of lung cancer that are identified every year 4% of them are connected to radon gas inhalation. They estimate that over 1,000 people in the UK die every year from the illness as an outcome of radon gas exposure from easily prevented radon leaks in their homes. Radon increases the chances of lung cancer as the radioactive radon particles can trigger damage to the lining of the lungs.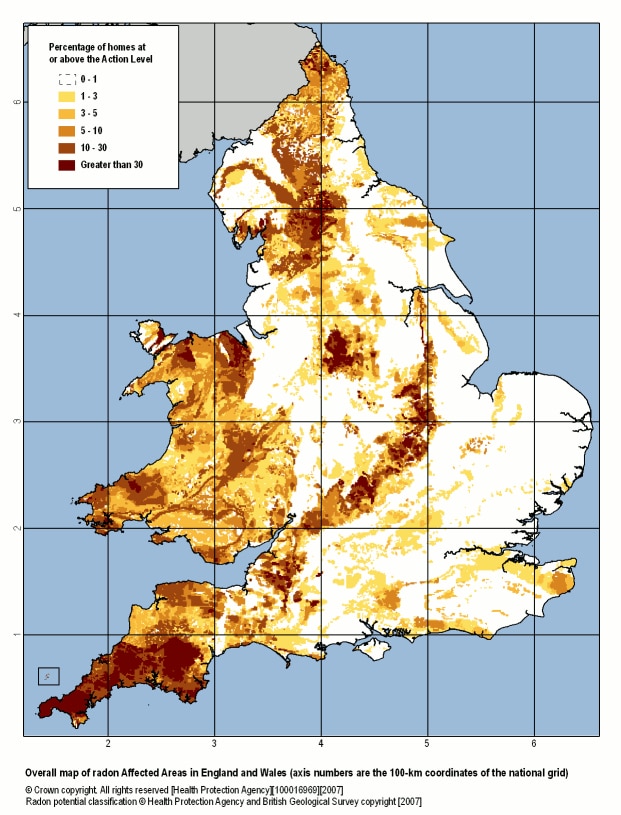 Testing For Radon
A common reason why homeowners do not determine if they are affected by radon is that they think any rectification will be costly and complicated. That's not the case. Once you determine that your house has high levels of radon then you can take steps to decrease it.
You cant count on radon maps as they don't show radon levels in particular buildings. While research study has shown that radon is connected to lung cancer, the disease isn't highly prevalent in the South-West, which is among the worst locations for radon. The existing radon risk assessments are based on 1km square grids on a UK large atlas. However 1km square is an extremely coarse grid and research study has shown that pockets of raised radon potential can be discovered. This danger assessment is indicative, rather than conclusive, highlighting the highest radon prospective discovered within the 1km square. Therefore, it is important to take preventative measures against radon ingress despite where in the UK you live. The basement is the most typical area of your house for radon to leak into.
Scotland currently rates of lung illness is one of the worst in Britain. The Scottish Public Health Observatory specified that in 2017 there were 5331 Scottish nationals who were identified to have lung cancer. This figure equates to almost 14% of all of the lung cancer cases diagnosed in Britain. Surprisingly, Cancer Research UK reported that people residing in the North East of England are most at danger of developing lung cancer, with 112.2 per 100,000 individuals being diagnosed with the illness.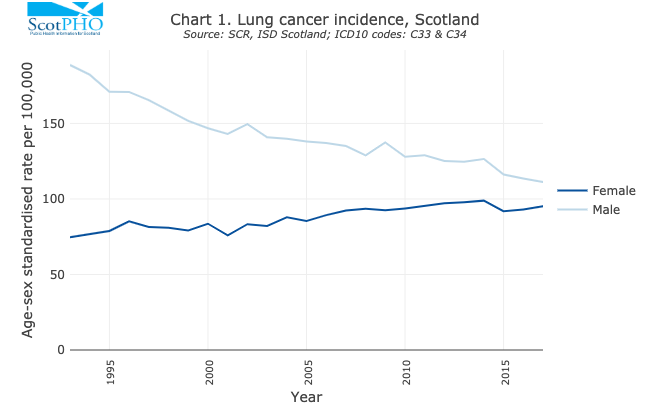 In contrast, it was revealed that the lowest occurrence rate was in the South West of the UK at simply 65.9 per 100,000 people. While facts & figures recommend that lung cancer throughout Britain is the outcome of a number of elements, you should not dismiss the impact that radon gas can have on your health.
The very best way to know whether high levels of radon are present in your home is to put a radon detector in the home and get the average level of radon gas over a period of time, usually 3 months.
To test your house for radon you will need 2 detectors, one detector will be placed in a ground floor living area and the other one will be placed in a first floor bed room. As the radon detectors record continually they must be positioned within a couple of days of you receiving them. The radon detectors supplied with our test packages are single use and ought to be left in location for 90 days around 3 months. This allows us to get a better average radon level by taking into account the changes in the indoor level of radon concentration that occurs with time. The passive radon detectors we use are the most accurate type utilised, for screening domestic and industrial buildings throughout England, Scotland and Wales.
Your house ought to be in normal usage during the radon measurement. Radon tests are invalid if:
* There is structure work during the test
* The structure is empty for more than 2-3 weeks of the test
* There is a modification in occupier throughout the test
After the 3 months is over you send the detectors back to us in the pre-paid envelope supplied. We then analyse the detectors then you will get our report on the findings. Depending on the result of the findings we'll give you advice on what the most suitable next steps should be, such as whether mitigation is essential or not.
Short term testing can be performed & will give a pretty good sign as to whether you have a problem with high radon concentrations. For short-term screening, you just need one radon detector placed on the ground in a small residential or commercial property without a basement. But, more detectors are encouraged for testing houses with basements and bigger floor types. Then we suggest additional detectors are put in place. This is due to the fact that gas can leak in a different way in each part of the property.

For More Information On Radon Testing Throughout The UK Contact Our Team Today